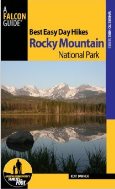 Alberta Falls
Trail Features:
Waterfalls, Fall Aspens


Trail Location:
Glacier Gorge
Roundtrip Length:
1.7 Miles

Trailhead Elevation:

9240 Feet

Total Elevation Gain:
200 Feet
Avg. Elev Gain / Mile:
241 Feet
Highest Elevation:
9400 Feet
Trail Difficulty Rating:
2.06 (easy)
Parking Lot Latitude
40.31035
Parking Lot Longitude
-105.64038
Trail Description
: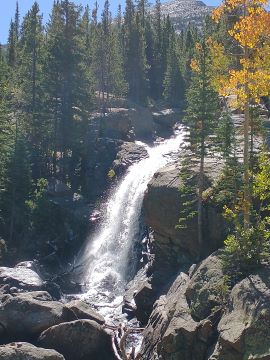 The hike to Alberta Falls begins from the Glacier Gorge Trailhead, located on Bear Lake Road almost 8 miles from the turn-off at Highway 36. Due to the extreme popularity of the Bear Lake Road area you may want to consider using the free park shuttle to reach the trailhead during the peak tourist season.
Roughly one-quarter of a mile from the parking area, just after crossing Chaos Creek, the trail briefly converges with the Glacier Creek Trail. After walking a very short distance the Glacier Creek Trail splits off to the right and heads toward Bear Lake. To continue on towards Alberta Falls hikers should turn left at this junction.
As it travels towards the waterfall the route alternates between a mixed pine forest and aspen groves, thus making this a great option for a fall hike.
At just over eight-tenths of a mile hikers will reach Alberta Falls, one of the more popular hiking destinations in Rocky Mountain National Park. The scenic 30-foot waterfall thunders down a small gorge on Glacier Creek, and offers hikers an excellent spot to enjoy a relaxing picnic.
The waterfall is named after Alberta Sprague, the wife of Abner Sprague, one of the original settlers in the Estes Park area. The Sprague's began building a homestead in Moraine Park in 1874, which would eventually become a lodge that was used for hunting, fishing and dude ranching. The property was sold to James Stead in 1900, and remained in business as the Stead's Ranch and Hotel until 1962. In 1910 the Sprague's built another lodge near the current parking area for Sprague Lake. The National Park Service purchased that property in 1932 and razed it in 1957.
Abner Sprague would go down in Rocky Mountain National Park history once more when he became the first visitor to pay an entrance fee in 1939.
If you still have plenty of time and energy after taking in the beautiful scenery at Alberta Falls, you'll have the option of continuing your hike up to either Mills Lake or The Loch. Both destinations are considered to be moderately strenuous hikes.