Bierstadt Lake
Trail Features:
Lake Views, Fall Aspens


Trail Location:
Bierstadt Lake
Roundtrip Length:
2.4 Miles

Trailhead Elevation:

8840 Feet

Total Elevation Gain:
675 Feet
Avg. Elev Gain / Mile:
563 Feet
Highest Elevation:
9466 Feet
Trail Difficulty Rating:
3.75 (easy)
Parking Lot Latitude
40.32063
Parking Lot Longitude
-105.62403
Trail Description
:
The hike to Bierstadt Lake begins from the Bierstadt Lake Trailhead, located on Bear Lake Road roughly 6.5 miles from the turn-off at Highway 36. Due to the extreme popularity of the Bear Lake Road area you may want to consider using the free park shuttle to reach the trailhead during peak tourist season.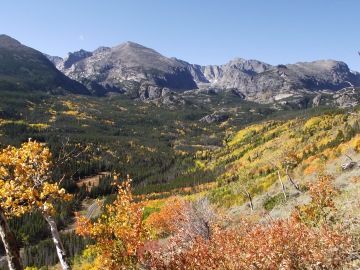 From Bear Lake Road the trail steadily climbs more than 600 feet along a series of switchbacks to reach the top of the Bierstadt Moraine. Along the way it passes through stands of lodgepole pines and aspens. As the trail climbs higher spectacular views of the mountains along the Continental Divide begin to open up.
Geologically speaking, Bierstadt Moraine is a lateral moraine leftover from the ice age when glaciers sculpted the landscape. Moraines are essentially piles of stones, gravel and soil left behind by a glacier.
Shortly after cresting the top of the moraine, roughly one mile from the trailhead, hikers will reach the Bierstadt Lake Loop Trail junction. To proceed directly to the lake, turn right at this junction and continue for one-tenth of a mile to a horse corral. From here it's a very short walk to the southwestern shore of the lake.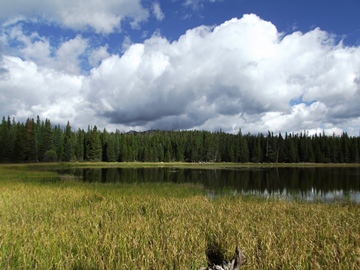 Bierstadt Lake is surrounded by a thick pine forest, and is ringed by sedges that give it a very serene appearance. The views here are quite nice, but the opposite side of the lake provides far better views of the surrounding mountains. This vantage point can be reached by hiking around the easy loop trail, which will add roughly eight-tenths of a mile to your total roundtrip mileage.
The lake is named after renowned western landscape painter Albert Bierstadt (1830-1902). He was brought to the area in 1876 by the Earl of Dunraven, a wealthy Irish aristocratic that nearly succeeded in owning all of Estes Park. The Earl commissioned Bierstadt to paint a large landscape of Estes Park and Longs Peak. Upon completion the Earl sent the painting to Europe to adorn the walls of Dunraven Castle in South Wales. Today the painting is back in Colorado, and is owned by the Denver Public Library.