RMNP: The Jewel of the Rockies is your one-stop guide for everything you need to know to plan your visit to Rocky Mountain National Park, including all the "don't miss spots" in the park.
Bridal Veil Falls
Trail Features:
Waterfall, Fall Aspens, Wildflowers, Wildlife


Trail Location:
Cow Creek Trailhead
Roundtrip Length:
6.2 Miles

Trailhead Elevation:

7837 Feet

Total Elevation Gain:
990 Feet
Avg. Elev Gain / Mile:
319 Feet
Highest Elevation:
8815 Feet
Trail Difficulty Rating:
8.18 (moderate)
Parking Lot Latitude
40.43129
Parking Lot Longitude
-105.50098
Trail Description
:
The hike to Bridal Veil Falls begins from the Cow Creek Trailhead, located near the northeast corner of Rocky Mountain National Park. To reach the trailhead from the intersection of Wonderview Avenue (34 Bypass Road) and MacGregor Avenue in Estes Park, turn to travel northbound on MacGregor Avenue. You'll drive 3.4 miles (note that MacGregor Avenue will become Devil's Gulch Road) to McGraw Ranch Road, which will be on the left. You may also want to note that there isn't a sign for either the trailhead or the national park at this junction. Although McGraw Ranch Road is a good gravel road appropriate for passenger cars, you will experience several sections of mild washboard. From the turn-off drive 2.1 miles until you see a sign that says "no parking beyond this point". There will be a small parking area along the roadside just before reaching the sign. Simply walk the short distance down the hill and turn left at the fork in the road where you'll see a gate with signs pointing to the trailhead.
The hike begins on the grounds of the historic McGraw Ranch. The original 160-acre ranch was established by Peter J. Pauley, Jr. in 1884. Through the years the property expanded to 1160 acres, and was eventually sold to John and Irene McGraw in 1909. The McGraw's continued ranching operations on the land for several years, but converted it to a dude ranch in 1936, and was operated as such until 1979.
In 1988 the National Park Service purchased the ranch, and in 1999 began rehabilitation of the surviving buildings, many of which date back to the early 1880s and mid-1930s. This $2 million project converted the ranch into a research facility.
After passing through the research facility the Cow Creek Trail begins following an old gravel road for roughly six-tenths of a mile, before transitioning into a wilderness path. This segment of the trail parallels the northern portions of Lumpy Ridge, while traveling through mostly open grassy meadows known for their abundance of wildflowers during the summer. Even during our early-September hike we still saw quite a few varieties.
At almost 1.2 miles from the trailhead hikers will reach the side trail that leads to Balanced Rock and Gem Lake, which is part of the scenic Lumpy Ridge Loop. To continue on towards Bridal Veil Falls you should proceed straight ahead at this junction.
Beyond the junction the trail begins traveling through a mixture of grassy meadows and stands of aspen, ponderosa pine, blue spruce and other conifer trees.
At just over 1.3 miles the trail passes the side path to the Rabbit Ears Backcountry Campsite. As you proceed along this stretch, 10,486-foot MacGregor Mountain will be the dominating feature almost directly in front of you.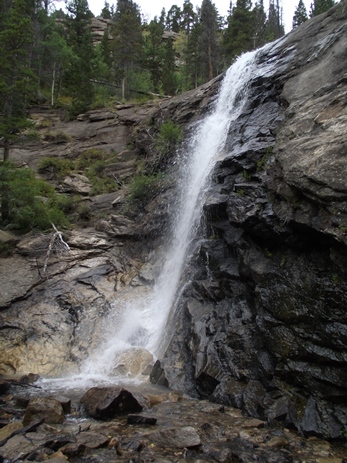 At just over 1.9 miles hikers will reach the Dark Mountain Trail junction, which veers off towards the left. To continue towards Bridal Veil Falls you should turn right here. Near this junction you'll also begin noticing 10,859-foot Dark Mountain, which will appear just off to the right of MacGregor Mountain.
Up to this point Cow Creek Trail more or less travels through open country, and follows over fairly flat terrain. However, once past the junction, the trail begins to climb a moderate grade, and soon begins passing through a fairly dense forest, including many aspens. The footpath becomes a little bit more primitive and a little bit more rugged due to rocks and roots. The trail also begins to follow along Cow Creek more closely.
At just over 2.9 miles, just past the horse hitching post, you might think that the trail ends as it heads toward a very small waterfall on your left. However, you should continue towards the right, which heads steeply up the hill to reach the main attraction. This next section of trail will climb over several series of rock steps.
At just over 3 miles you'll pass a water slide on your left. You should continue to follow the trail upward. This last section of trail climbs fairly steeply, gaining more than 125 feet over the course of the last tenth-of-a-mile.
At 3.1 miles you'll finally reach the base of Bridal Veil Falls, a very pleasant waterfall that drops roughly 20 feet off a rock ledge. We were fortunate to have hiked this trail after a fairly wet summer season, so there was still quite a bit of water flowing during our visit. The best time to view the waterfall, however, will be after the spring snow melt. However, the aspens along this route make this a great choice for a fall hike. The trail also provides great opportunities for spotting a variety of wildlife, including elk and mule deer.