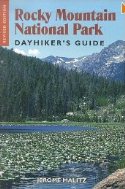 Lake Helene
Trail Features:
Alpine Lake, Outstanding Views


Trail Location:
Bear Lake
Roundtrip Length:
6.5 Miles

Trailhead Elevation:

9475 Feet

Total Elevation Gain:
1340 Feet
Avg. Elev Gain / Mile:
412 Feet
Highest Elevation:
10,697 Feet
Trail Difficulty Rating:
9.18 (moderate)
Parking Lot Latitude
40.31196
Parking Lot Longitude
-105.64581
Trail Description
:
The hike to Lake Helene begins from the Bear Lake Trailhead, located at the end of Bear Lake Road, 9 miles from the turn-off at Highway 36. Due to the extreme popularity of the area you may want to consider using the free park shuttle to reach the trailhead during peak tourist season.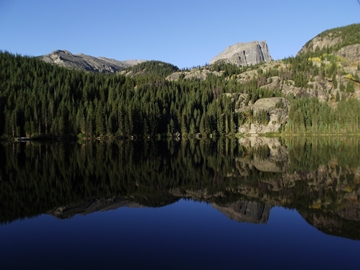 From the trailhead hikers will immediately make a right turn onto the Bear Lake Loop Trail. After a short walk along the eastern shore of Bear Lake you'll make another right turn onto the trail that leads towards Odessa Lake and Flattop Mountain. From here the trail passes through a nice aspen grove as it begins ascending the slopes of the Bierstadt Moraine.
Roughly one-half mile from the trailhead you'll reach the trail that leads to Bierstadt Lake and the Mill Creek Basin. Hikers should turn left at this junction to continue on towards Lake Helene.
From the junction the route begins heading due west. As it climbs higher you'll enjoy spectacular views of Longs Peak, the Keyboard of the Winds, Pagoda Peak and Chiefs Head Peak, looking towards the south.
At just over a mile from the trailhead hikers will reach the Flattop Mountain Trail, which forks off to the left. To continue on towards Lake Helene hikers should proceed straight ahead at this junction.
The first mile above the Flattop Mountain Trail junction is a steady climb through a dense pine forest. The terrain begins to ease a little during the second mile as you ascend the Mill Creek Drainage, the valley between Flattop Mountain and Joe Mills Mountain. Here the trail alternates between forest and open areas that provide excellent views of the surrounding mountains.
At 2.75 miles hikers will pass the side trail that leads to the Sourdough Backcountry Campsite (one campsite). A short distance beyond this junction the trail reaches its highest point.
At roughly 3.2 miles from the trailhead hikers will arrive at an unmarked side trail that leads to Lake Helene on your left. Immediately past this junction the main trail makes a sharp turn to the right, and begins descending rapidly towards Odessa Lake. If you've reached this point you've obviously gone too far. It's unclear why the park doesn't have a trail marker here.
From the unmarked junction hikers will reach Lake Helene by walking a short distance on a narrow and somewhat faint path. From the shore of this beautiful alpine lake the views are absolutely fantastic. The sentinel dominating the scene from the north shore is 12,129-foot Notchtop Mountain. To the right, looking west-northwest, is 12,331-foot Knobtop Mountain. To the south is 12,324-foot Flattop Mountain, and in between, sitting behind Flattop and Notchtop, is 12,363-foot Ptarmigan Point.