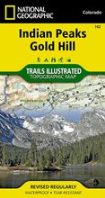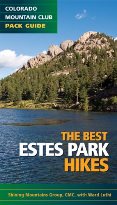 Best Estes Park Hikes offers details on 20 hikes near Estes Park, from short and scenic, to challenging adventures, including the 11,428-foot summit of Twin Sisters Peak.
Lake Isabelle
Trail Features:
Subalpine Lake, Outstanding Views


Trail Location:
Long Lake Trailhead (Brainard Lake Area)
Roundtrip Length:
4.4 Miles

Trailhead Elevation:

10,505 Feet

Total Elevation Gain:
440 Feet
Avg. Elev Gain / Mile:
200 Feet
Highest Elevation:
10,908 Feet
Trail Difficulty Rating:
5.28 (moderate)
Parking Lot Latitude
40.07781
Parking Lot Longitude
-105.58456
Trail Description
:
The hike to Lake Isabelle begins from the Long Lake Trailhead in the Brainard Lake Recreation Area. To reach the trailhead from Colorado Highway 7, drive 10 miles south along Highway 72 towards the small town of Ward. Just before reaching Ward, turn right onto Brainard Lake Road (County Road 102) and drive 2.7 miles to the recreation area fee station (Brainard Lake Road is roughly 13 miles north of Nederland). After paying the service fee
, drive another 2.8 miles to a split in the road where you'll turn left to reach the Long Lake Trailhead. Hikers should note that Brainard Lake Road is usually open from mid-June through mid-October, depending on weather.
After departing from the trailhead and walking roughly 0.15 miles, hikers will reach the Indian Peaks Wilderness boundary. Designated in 1972, the Indian Peaks Wilderness encompasses more than 76,000 acres of pristine mountain wilderness immediately south of Rocky Mountain National Park. The wilderness received its name as a result of several peaks within its borders being named for Native American tribes.
Just beyond the wilderness boundary hikers will arrive at the east Jean Lunning Trail junction. This trail loops around the south side of Long Lake, and reunites with the Pawnee Pass Trail about a mile further up the trail. To continue directly towards Lake Isabelle, hikers should veer to the right to remain on the Pawnee Pass Trail. If your intention is to only visit Lake Isabelle on this hike, you may want to consider taking a left at this junction and walking a very short distance to a footbridge at the foot of Long Lake. During the morning hours you'll have a nice view of Long Lake, Niwot Ridge and the mountains near Pawnee Pass.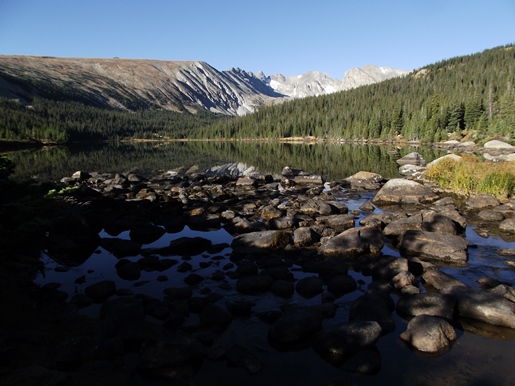 Although not considered to be the most picturesque mountain scenery in the Indian Peaks, Niwot Ridge has the distinction of being designated by the United Nations as an International Biosphere Reserve for arctic and alpine research. A program launched by the National Science Foundation in 1980, known as the Niwot Ridge Long Term Ecological Research, is trying to better understand ecological processes in high-elevation mountain ecosystems.
From the junction the trail travels around the north and northwest sides of Long Lake. Although there's no access to the lake from the Pawnee Pass Trail, there are a couple of short side trails that lead to the shore roughly seven-tenths of a mile from the trailhead.
This segment of the route travels through a pristine pine forest along a wide and well-used path. Sightings of moose are fairly common along this stretch, as the entire South St. Vrain Creek valley area, between Long Lake and Lake Isabelle, is prime moose habitat.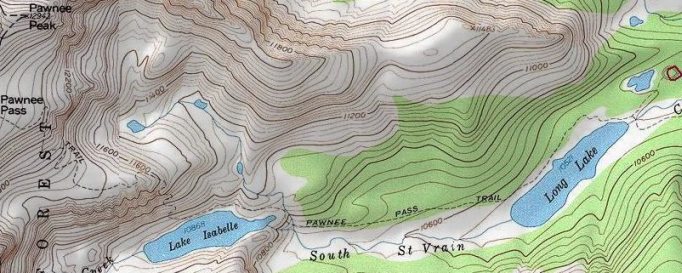 At roughly nine-tenths of a mile the trail shifts away from the lake, and gradually begins to gain elevation. At just under 1.2 miles hikers will reach the west Jean Lunning Trail junction. To continue on towards Lake Isabelle you should turn right here. As mentioned above, the Jean Lunning Trail circles around the south side of Long Lake. If you wish to explore more of the area during your hike you'll have the option of taking this trail on your way back to the trailhead. This will add roughly four-tenths of a mile to your overall mileage.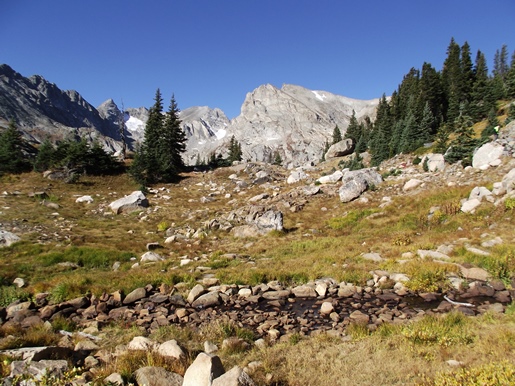 As the trail continues to push westward, dramatic views of the mountains begin to emerge straight ahead. At just over 2.1 miles hikers will reach the Isabelle Glacier Trail junction. From here the Pawnee Pass Trail continues for another 2.5 miles to reach the top of Pawnee Pass. To visit Lake Isabelle hikers should veer to the left at this junction.
After walking a little over a hundred yards hikers will reach a side trail that leads down to a rock outcropping that overlooks the lake. From this vantage point you'll enjoy outstanding views of the lake, which is framed by Niwot Ridge, 13,409-foot Navajo Peak, Navajo Glacier, 13,441-foot Apache Peak and 12,967-foot Shoshoni Peak, looking from left to right.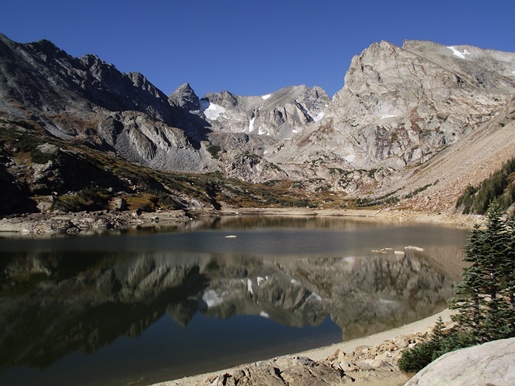 Hikers should note that Lake Isabelle is actually a reservoir, and is drained each August for agriculture purposes by a private company who owns the rights to the water. Although water levels were well below full capacity during our late-September hike, it was still a very beautiful setting.