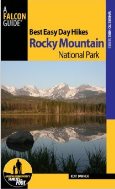 Lily Lake Loop
Trail Features:
Scenic Lake Views, Wildflowers


Trail Location:
Lily Lake Trailhead
Roundtrip Length:
0.8 Miles

Trailhead Elevation:

8930 Feet

Total Elevation Gain:
10 Feet
Avg. Elev Gain / Mile:
25 Feet
Highest Elevation:
8940 Feet
Trail Difficulty Rating:
0.82 (easy)
Parking Lot Latitude
40.30675
Parking Lot Longitude
-105.53815
Trail Description
:
The Lily Lake Loop is an excellent hike for the entire family. This level, fully accessible trail, circles around the lake and nearby wetlands for just over three-quarters of a mile, and is conveniently located near Estes Park.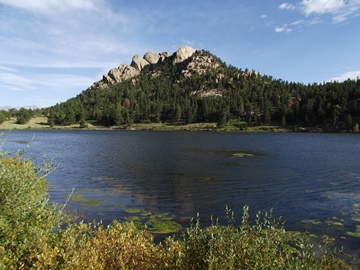 To reach the trailhead from Estes Park, drive 6.3 miles south on Colorado Highway 7 to the Lily Lake parking area. You can park at the lake or across the highway at the old Lily Lake Visitor Center (now closed).
In 1992 the Lily Lake area was purchased by Rocky Mountain National Park. Five years later, with funding from the Rocky Mountain Conservancy, the popular handicapped accessible trail was constructed using hard packed gravel. Although you can start in either direction, this description follows the loop in a clockwise direction.
Roughly one-quarter of a mile from the trailhead hikers will reach a side trail that provides access to the Storm Pass Trail. Hikers now have the choice of using this route to reach Estes Cone, in addition to the route starting from the Longs Peak Trailhead.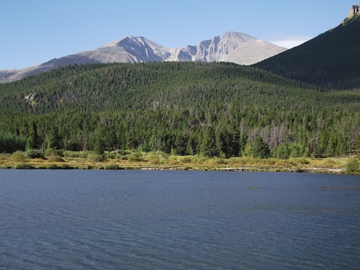 At roughly four-tenths of a mile you'll reach the western Lily Ridge Trail junction (which is not handicap accessible). This semi-loop trail climbs about 100 feet and will add four-tenths of a mile to your overall hike, while providing outstanding views of the lake and the surrounding mountains.
As you continue along the main loop, the northern shore of Lily Lake will provide some outstanding views of Estes Cone, as well as the two highest peaks in Rocky Mountain National Park, Mt. Meeker and Longs Peak.
At roughly seven-tenths of a mile hikers will reach the eastern Lily Ridge Trail junction. From here the trailhead is less than one-tenth of a mile away.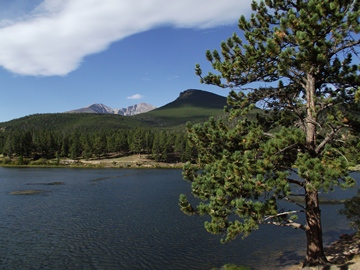 In addition to being an outstanding family hike, the trail offers several picnic opportunities along the way. Fishing is also a popular activity, but is catch and release only. The lake is stocked with greenback cutthroat trout, a federally listed threatened species.
Lily Lake is situated at the headwaters of Fish Creek, which flows for roughly five miles into Lake Estes. Although the lake is natural, a dam was constructed in 1915 in order to increase its size. Prior to the dam the lake covered 14 acres of surface area, and contained roughly 39 acre feet of water. After 1915, the dam increased the surface area to 17 acres, and nearly doubled the amount of water to roughly 75 acre feet of water. In 2010 the U.S. Bureau of Reclamation rated the Lily Lake Dam as a high potential hazard. Although the park considered removing it, the decision was made to repair the dam in 2012.