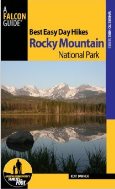 Nymph Lake
Trail Features:
Lake Views, Fall Aspens


Trail Location:
Bear Lake
Roundtrip Length:
1.1 Miles

Trailhead Elevation:

9475 Feet

Total Elevation Gain:
245 Feet
Avg. Elev Gain / Mile:
462 Feet
Highest Elevation:
9710 Feet
Trail Difficulty Rating:
1.55 (easy)
Parking Lot Latitude
40.31196
Parking Lot Longitude
-105.64581
Trail Description
:
The hike to Nymph Lake begins from the Bear Lake Trailhead, located at the end of Bear Lake Road, nine miles from the turn-off at Highway 36. Due to the extreme popularity of the area you may want to consider using the free park shuttle to reach the trailhead during peak tourist season.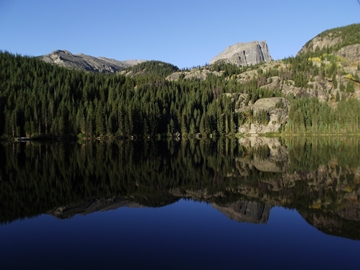 Just beyond the trailhead the Bear Lake Loop splits off towards the right, while the trail to Nymph Lake branches off to the left. Most hikers will stop at Bear Lake to check out the beautiful scenes from the east shore before proceeding to their ultimate destination. If starting in the early morning you might have an opportunity to go home with some great photos of Hallett Peak reflecting off the water. If wishing to avoid the crowds that flock to this extremely popular area, I highly recommend starting in the early morning anyway.
From Bear Lake the trail makes a steady climb up to Nymph Lake. Every now and then you'll catch a glimpse of Longs Peak through the trees. Due to the heavy amount of foot traffic this area receives, much of this section of trail has been paved.
At just over a half-mile from the trailhead hikers will reach the south end of Nymph Lake. This pleasant lake is ringed by pond lilies, while the shore offers an ideal spot for a family picnic. If you continue up the trail for a short distance you'll have a nice view of Hallett Peak standing sentinel over the lake.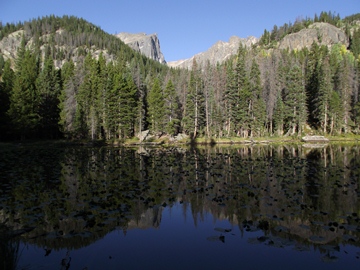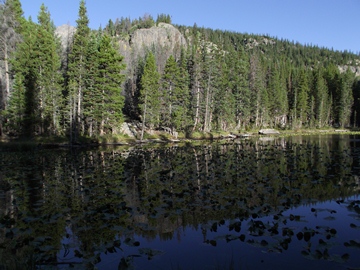 If you wish to explore more of the Tyndall Gorge area you will have the option of continuing along this same trail for another six-tenths of a mile to visit Dream Lake, an incredibly beautiful subalpine lake.