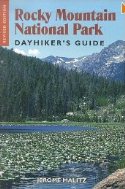 Ouzel Falls
Trail Features:
Waterfalls, Wildflowers


Trail Location:
Wild Basin Trailhead
Roundtrip Length:
5.4 Miles

Trailhead Elevation:

8500 Feet

Total Elevation Gain:
870 Feet
Avg. Elev Gain / Mile:
322 Feet
Highest Elevation:
9370 Feet
Trail Difficulty Rating:
7.14 (moderate)
Parking Lot Latitude
40.20883
Parking Lot Longitude
-105.56614
Trail Description
: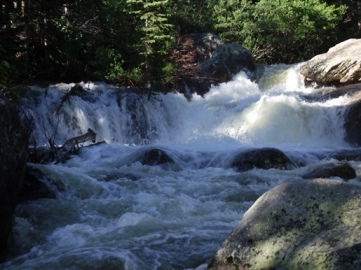 The hike to Ouzel Falls begins from the fairly remote Wild Basin Trailhead in the southeastern corner of Rocky Mountain National Park, located near the small communities of Meeker Park and Allenspark. To reach the trailhead from Estes Park, drive 12.6 miles south on Colorado Highway 7 to the Wild Basin Road junction and turn right. After driving 0.4 miles, make another right turn into the park. The Wild Basin Trailhead is located roughly 2.2 miles from the park turn-off on a narrow, two-wheel drive gravel road.
This hike offers several attractions along the way, including Copeland Falls and Calypso Cascades. Lower Copeland Falls, your first destination along this route, arrives at just over three-tenths of a mile from the trailhead. The upper falls are located roughly one-tenth of a mile further upstream along the North St. Vrain Creek. There's a side trail that visits both the lower and upper falls. This trail parallels the main trail, and once you've visited Upper Copeland Falls, will allow you to return back to the main trail without having to backtrack.
Beyond the falls the trail crosses over Sandbeach Creek. At just over 1.3 miles from the trailhead you'll reach a spur trail that provides access to a series of five backcountry campgrounds that offer a total of seven individual campsites. To continue on towards Calypso Cascades, stay to the left at this junction.
At roughly 1.6 miles hikers will pass an unnamed waterfall, which shouldn't be confused with Calypso Cascades, which is still another two-tenths of a mile further up the trail. Unfortunately the 200-foot high Calypso Cascades weren't all that impressive during our first visit to these falls on an early-September day. However, during the spring run-off, the falls are usually roaring, as seen in this photo from a more recent hike in late June (below, on the left).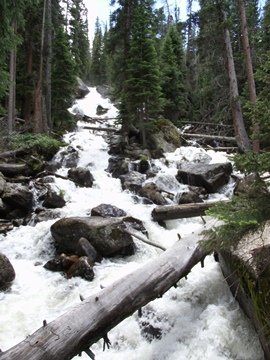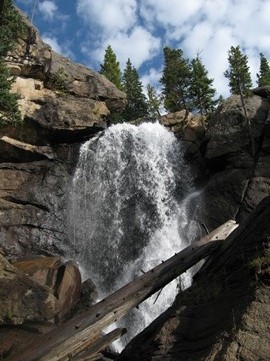 Above Calypso Cascades you'll begin to catch sporadic views of the surrounding mountains, including Longs Peak and Mt. Meeker towards the north.
At 2.7 miles, and an elevation of 9370 feet, hikers will reach Ouzel Falls, which is a very impressive 40-foot waterfall (photo above, on the right). Although you can see it from the log footbridge that crosses over Ouzel Creek, make sure to take the short unmarked side trail to get a much better view. Ouzel Falls, Ouzel Creek and Ouzel Lake (2.25 miles further up the trail) are all named after the water ouzel (or dipper), which is a small bird that dives under the water in search of food.
If you wish to extend your hike to visit the most scenic feature on this trail, you will have the option of continuing onto Bluebird Lake. This option, however, would add another 7.2 miles to your roundtrip hike, making it a fairly strenuous hike. Thunder Lake is also an option from this point as well.