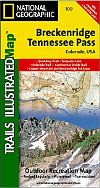 The Nat Geo Breckenridge map covers the Pike, San Isabel and Arapaho national forests, Mt. Lincoln, Bross, Democrat, Cameron and Quandary Peak.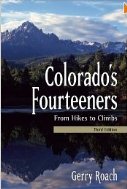 Colorado's Fourteeners, by Gary Roach, is considered by many to be the bible for Colorado's 14ers. Besides the often-climbed standard routes, the guide describes many alternative and technical routes, making it the best book for climbers and hikers of all skill levels.
Quandary Peak
Trail Features:
Outstanding views


Trail Location:
Hoosier Pass
Roundtrip Length:
6.75 Miles

Trailhead Elevation:

10,850 Feet

Total Elevation Gain:
3450 Feet
Avg. Elev Gain / Mile:
1022 Feet
Highest Elevation:
14,265 Feet
Trail Difficulty Rating:
13.65 (strenuous)
Parking Lot Latitude
39.385162
Parking Lot Longitude
-106.061836
Trail Description
:
The standard route to the summit of Quandary Peak begins from the Quandary Trailhead, located just north of Hoosier Pass. To reach the trailhead drive 8 miles south on Colorado 9 from Breckenridge, or 14 miles north from Fairplay, and turn west onto Blue Lakes 850 Road. Drive a few hundred yards and turn right onto McCullough Gulch 851 Road, and then drive another tenth-of-a-mile to the small parking area next to the trailhead.
Quandary Peak is located in the White River National Forest, and is the only fourteener in the Tenmile Range. At 14,265 feet Quandary ranks as the 13th highest peak in Colorado. According to 14ers.com the peak's name comes from a group of miners who were unable to identify a mineral sample found on its slopes in the 1860s. The group was in a "quandary" over the exact nature of the mineral, and ended up naming the mountain from where it originated.
Although it's a relatively short hike, and has less elevation gain when compared to many other fourteeners, the trail still packs a punch. Much of the climbing occurs in two relatively short sections. One climbs 1300 feet over a 0.9-mile section, roughly midway through the hike, while the other climbs 1100 feet during the final 0.8-mile push to the top.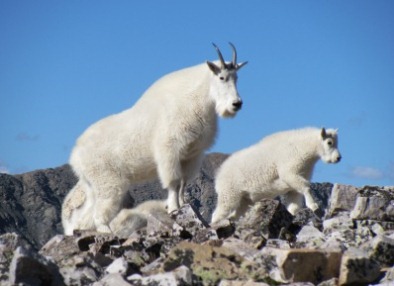 On our most recent hike up to Quandary Peak we came face to face with a family of mountain goats. We first saw them from a distance meandering around the pathway several hundred feet up-trail. This was near the saddle, just below the upper East Ridge, at roughly 13,000 feet. As we got closer, however, the goats didn't move. In fact, the largest billy (male goat) decided to lay down on the trail just as we got close enough to look into his eyes.
You could say that we were "in a quandary" as to what to do next. We were just about to go off-trail and walk around the road block when we noticed a group of hikers approaching from behind. The sight of their dog provided the motivation for the goats to begin moving. Although they were walking again, they stayed on the trail and didn't allow us to pass. This went on for several minutes until another group of hikers approached from above and prompted the goats to move off the trail. We were finally able to pass safely, and got about a quarter-of-a-mile away from the goats when we decided to take a quick break. Since we were on a fairly narrow ridge, we were only a few yards off to the side of the trail at this point.
After resting on a rock for a couple of minutes we noticed the goats were moving again. The large male, the same billy that blocked our progress earlier, was making a direct bee line toward us. I told my wife to get moving as quickly as possible. She was already proceeding up the trail before I was able to get my backpack together. I hurriedly moved out just as the goat got to within 75 feet of my location. It was the last time we saw the goats.
Coincidentally, just weeks after that encounter, a hiker was fatally gored by a mountain goat in Olympic National Park. The man was hiking with his wife and a friend when they stopped for lunch at an overlook. A mountain goat suddenly appeared and began acting aggressively. After chasing the man for a bit, the billy gored him in the thigh, then stood over him as he lay bleeding to death, staring at anyone who tried to help.
After reading the details of the incident I couldn't help but relate this to my own experience on Quandary Peak. Afterwards, park officials at Olympic began warning hikers not to urinate on or near trails because goats are attracted to the salt. On their website they state: "Stay at least 150' from all wildlife. If a goat approaches, be prepared to chase it off by yelling, waving coats or throwing rocks. Goats crave salts. Urinate on rocks or snow at least 150' from the trail. Do not leave sweaty clothes unattended."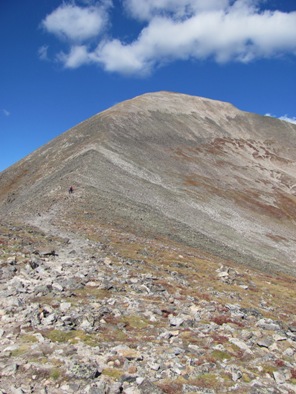 Was this the reason why the mountain goat so brazenly approached my wife and I as we rested on that rock? Looking back now, I would say the answer to that is likely.
Without any other incidents we continued the stiff climb towards the summit. This route is ranked as being easy on good trail, with exposure to dangerous drop-offs being rated as mild. However, as mentioned above, the final section of trail climbs 1100 feet over the final eight-tenths of a mile to the top, making this a very strenuous segment.
From the summit hikers will enjoy outstanding views of other nearby fourteeners Mt. Bross, Mt. Lincoln, Mt. Cameron and Mt. Democrat to the south. Looking towards the north you'll be able to see Pacific Peak and Crystal Peak, as well as the Gore Range in the far off distance.
At the summit you may also notice a plaque for Kevin Gill, a 44-year-old hiker who died of cardiac arrest on the mountain on August 28, 2009.
Hikers should always be aware of lightning risk while hiking in the Rocky Mountains, especially at higher elevations. As a general rule of thumb you should plan to be off the summit before noon in order to avoid the notorious afternoon thunderstorms that frequent the mountains in the summer. Hikers should also be prepared for a variety of weather conditions while on the trail. Make sure you have the proper gear with you, and know what safety precautions to consider beforehand.
Although this is a relatively easy climb along a straightforward route with virtually no exposure to dangerous drop-offs, Quandary Peak is still considered to be the most dangerous mountain in Colorado, according to Mark Scott-Nash, the author of Colorado 14er Disasters. According to the author, Quandary Peak has one of the highest accident rates for any fourteener in Colorado, which is likely the result of its popularity, easy year-round access, and its variety of routes to the summit. In other words, many of those who get in trouble on this mountain are likely underrating the risks associated with climbing it.
After your hike you may want to consider stopping in the town of Fairplay. It's an absolute hidden gem. Although it plays up on its association with the popular South Park animated sitcom, it's really a small, laid-back rustic town, with an old west vibe.
Speaking of South Park, the drive though this region is extremely beautiful. There are two main roads that pass through this high elevation grassland basin; one takes you from Buena Vista to Denver (U.S. 285), while the other travels from Buena Vista to Colorado Springs (U.S. 24). In 2009 South Park was designated as a National Heritage Area.

Additional Information: