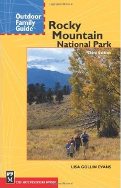 Sprague Lake Loop
Trail Features:
Outstanding Lake Views


Trail Location:
Sprague Lake
Roundtrip Length:
0.9 Miles

Trailhead Elevation:

8690 Feet

Total Elevation Gain:
10 Feet
Avg. Elev Gain / Mile:
22 Feet
Highest Elevation:
8700 Feet
Trail Difficulty Rating:
0.92 (easy)
Parking Lot Latitude
40.32043
Parking Lot Longitude
-105.6078
Trail Description
:
"...there are those you can call nothing but tourists. Those that go tearing from coast to coast and back again on their vacations are tourists. When they reach home from their travels they are not certain where they saw this or that..."
- Abner Sprague
The trailhead for the Sprague Lake Trail is located off Bear Lake Road, roughly 5.5 miles from the turn-off at Highway 36. Due to the extreme popularity of the Bear Lake Road area, you may want to consider using the free park shuttle to reach the trailhead during peak tourist season.
Although the park sign at the trailhead states that the trail is a "half-mile walk" around the lake, the length is actually closer to nine-tenths of a mile. The route is virtually flat, travels over a hard packed gravel surface, and is considered to be wheelchair accessible and suitable for the entire family.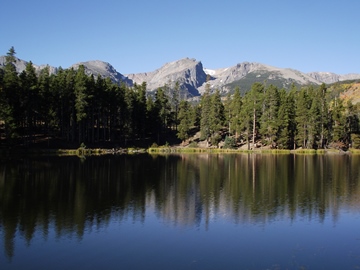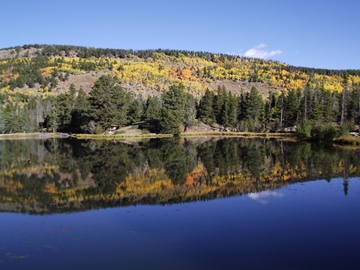 I highly recommend hiking this trail in the morning, especially if you wish to go home with some great photos of the mountains reflecting off the 13-acre lake.
Along the way the loop trail offers several benches for visitors to kick back and enjoy the peaceful scenery. Hikers will enjoy panoramic views of the Continental Divide, including Half Mountain, Thatchtop Mountain, Taylor Peak, Otis Peak, Hallett Peak, Flattop Mountain and Notchtop Mountain.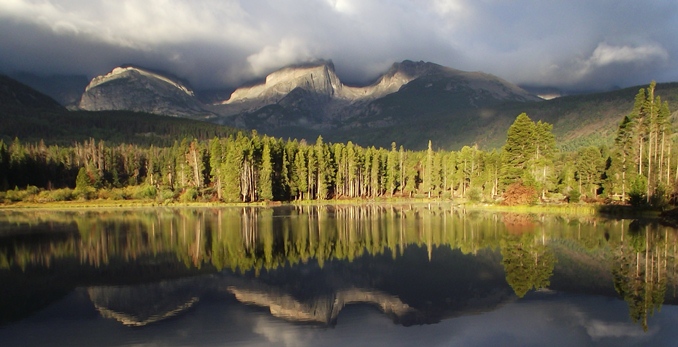 "We came here for small ranch operations, but guests and visitors became so numerous, at first wanting eggs, milk, and other provisions, then wanting lodging, and finally demanding full accommodations, that we had to go into the hotel business or go bankrupt from keeping free company!"
- Abner Sprague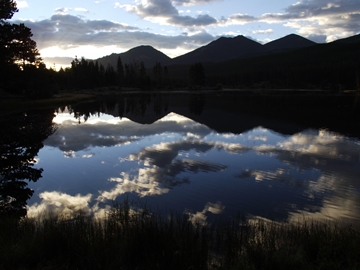 The lake is named after Abner Sprague, one of the original settlers in the Estes Park area. Sprague began building a homestead in Moraine Park in 1874. His ranch would eventually become a resort that was used for hunting, fishing, dude ranching, and even golfing. The property was sold to James Stead around 1900, and remained in business as the Stead's Ranch and Hotel until 1962. In the meantime the Sprague's would move to Loveland.
However, in 1910, seeking "to prevent my homesickness for Estes Park and the mountains from becoming chronic", Abner Sprague and his wife would build another guest lodge in the Glacier Basin area. This one was located in the current parking area for Sprague Lake. The National Park Service purchased the property in 1932, but gave the Sprague's a twenty year lease before razing the buildings in 1957.
Abner Sprague would go down in Rocky Mountain National Park history once more when he became the first visitor to pay an entrance fee in 1939.
Fisherman may also want to note that Sprague Lake is a popular destination for brook, brown and rainbow trout fishing.