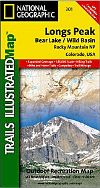 The Nat Geo Longs Peak Map includes Longs Peak, Bear Lake, Glacier Gorge, Moraine Park and Wild Basin areas of RMNP. This sectional map provides much greater detail.
Thunder Lake
Trail Features:
Subalpine Lake, Outstanding Views


Trail Location:
Wild Basin Trailhead
Roundtrip Length:
11.6 Miles

Trailhead Elevation:

8500 Feet

Total Elevation Gain:
2275 Feet
Avg. Elev Gain / Mile:
392 Feet
Highest Elevation:
10,675 Feet
Trail Difficulty Rating:
16.15 (strenuous)
Parking Lot Latitude
40.20777
Parking Lot Longitude
-105.56657
Trail Description
:
The hike to Thunder Lake begins from the fairly remote Wild Basin Trailhead in the southeastern corner of Rocky Mountain National Park, located near the small communities of Meeker Park and Allenspark. To reach the trailhead from Estes Park, drive 12.6 miles south on Colorado Highway 7 to the Wild Basin Road junction and turn right. After driving four-tenths of a mile, make another right turn into the park. The Wild Basin Trailhead is located roughly 2.2 miles from the park turn-off on a narrow, two-wheel drive gravel road.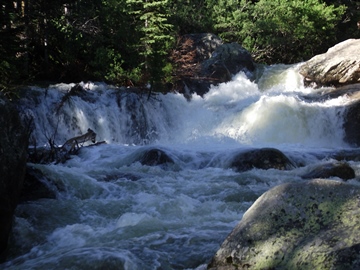 Lower Copeland Falls, your first destination along this route, arrives at roughly one-third of a mile from the trailhead. Upper Copeland Falls is located another one-tenth of a mile further upstream on the North St. Vrain Creek. There's a side trail that visits both the lower and upper falls. This trail parallels the main trail, and once you've visited Upper Copeland Falls, will allow you to return back to the main trail without having to backtrack.
Beyond the two waterfalls the trail crosses over Sandbeach Creek. By now you will have noticed that the trail travels through a very beautiful and pristine subalpine forest.
At almost 1.4 miles hikers will reach the Pine Ridge Backcountry Campsite. Just beyond this site is a spur trail that provides access to a series of campgrounds. In all, the five campgrounds in this area offer a total of seven individual campsites.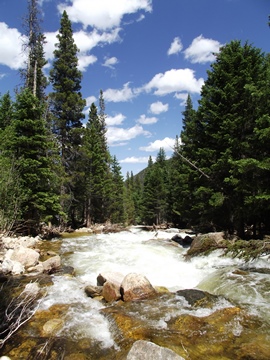 Although this spur trail is the shortest route to Thunder Lake, it's a little bit more primitive and a little bit more rugged than the main trail. Taking the main route passes Calypso Cascades and Ouzel Falls, but adds almost another mile to your one-way destination. To continue on towards Thunder Lake, via the shortest route, hikers should turn right at this junction.
For the most part this unimproved spur trail continues to follow the North St. Vrain Creek. At just over 1.6 miles hikers will reach the Tahosa Backcountry Campsite. At roughly 1.9 miles you'll pass the Aspen Knoll Backcountry Campsite, and at roughly 2.5 miles you'll reach the North St. Vrain Backcountry Campsite. The Thunder Lake Trail junction is also located here. To continue on towards the lake hikers should turn right here. Just beyond this junction is the Siskin Backcountry Campsite.
At roughly 3.9 miles hikers will arrive at the Lion Lake No. 1 Trail junction. To continue on towards Thunder Lake you should remain on the main trail, which leads towards the left.
For the most part the trail travels under the canopy of the forest for almost the entire route. Occasionally, as you climb higher, you'll have sporadic views of the surrounding mountains.
At roughly 5.6 miles you'll reach the spur trail that provides access to the Thunder Lake Group Campsite. This spot also marks the highest point on the hike. Over the course of this short section of trail we saw several glacier lilies, but only a few were in bloom during our late-June hike.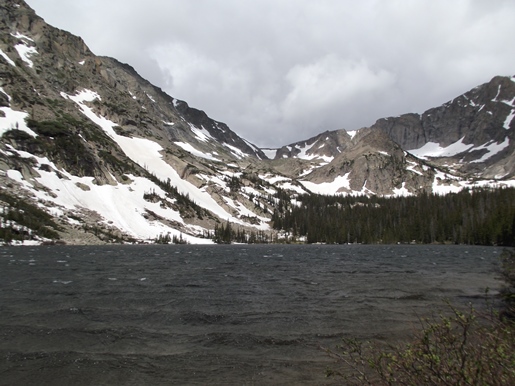 After walking downhill for a short distance hikers will finally reach Thunder Lake, roughly 5.8 miles from the trailhead. The Thunder Lake Patrol Cabin is also located here. This small one-room log cabin was built in 1930, and was placed on the National Register of Historic Places in 1988.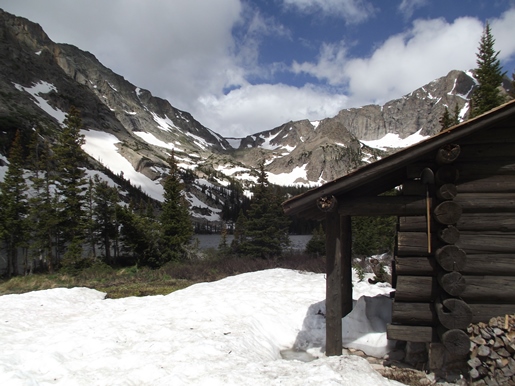 Thunder Lake sits in an incredibly beautiful setting. From left to right it's framed by 12,420-foot Tanima Peak, 12,222-foot Pilot Mountain, and 13,310-foot Mount Alice towards the northwest.