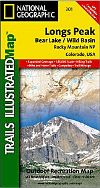 The Nat Geo Longs Peak Map includes Longs Peak, Bear Lake, Glacier Gorge, Moraine Park and Wild Basin areas of RMNP. This sectional map provides much greater detail.
Bluebird Lake
Trail Features:
Alpine Lake, Outstanding Views, Waterfalls


Trail Location:
Wild Basin Trailhead
Roundtrip Length:
12.6 Miles

Trailhead Elevation:

8500 Feet

Total Elevation Gain:
2490 Feet
Avg. Elev Gain / Mile:
395 Feet
Highest Elevation:
10,990 Feet
Trail Difficulty Rating:
17.58 (strenuous)
Parking Lot Latitude
40.20883
Parking Lot Longitude
-105.56614
Trail Description
:
The hike to Bluebird Lake begins from the fairly remote Wild Basin Trailhead in the southeastern corner of Rocky Mountain National Park, located near the small communities of Meeker Park and Allenspark. To reach the trailhead from Estes Park, drive 12.6 miles south on Colorado Highway 7 to the Wild Basin Road junction and turn right. After driving four-tenths of a mile make another right turn into the park. The Wild Basin Trailhead is located roughly 2.2 miles from the park turn-off on a narrow gravel road, which is suitable for two-wheel drive vehicles.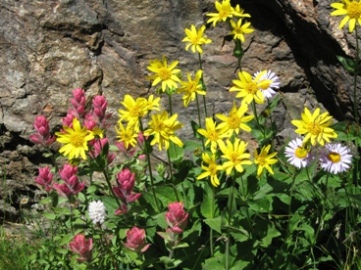 This hike offers several attractions along the way, including Copeland Falls, Calypso Cascades, Ouzel Falls and Ouzel Lake. Lower Copeland Falls, your first destination along the route, arrives at just over three-tenths of a mile from the trailhead. The upper falls are located roughly one-tenth of a mile further upstream along the North St. Vrain Creek.
Beyond the waterfalls the trail crosses over Sandbeach Creek. At just over 1.3 miles from the trailhead you'll reach a spur trail on your right that provides access to a series of five backcountry campgrounds. In total, the five campgrounds offer seven individual campsites. To continue on towards Bluebird Lake hikers should proceed to the left at this junction.
At roughly 1.6 miles hikers will pass an unnamed waterfall, which shouldn't be confused with Calypso Cascades, which is still another two-tenths of a mile further up the trail. Unfortunately the 200-foot high Calypso Cascades weren't all that impressive during our early September hike. However, during the spring run-off, the falls are usually roaring (you can see photos of the falls by clicking here).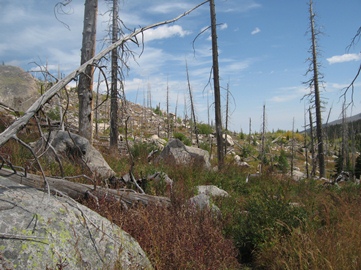 Above Calypso Cascades you'll begin to catch sporadic views of the surrounding mountains, including Longs Peak and Mount Meeker towards the north.
At 2.7 miles, and an elevation of 9370 feet, hikers will reach Ouzel Falls, which is a very impressive 40-foot waterfall. Although you can see it from the new footbridge that now spans across Ouzel Creek, you can get a much better view by traveling off trail for a short distance. Before the 2013 flood, which destroyed the existing footbridge at that time, there used to be an unmarked side trail that led to a much better vantage point. However, it appears that the flood has changed the topography in this area, and it's now a bit of a bushwhack to reach the better viewpoint for this waterfall (you can see photos of the waterfall by clicking here).
Ouzel Falls, Ouzel Creek and Ouzel Lake are all named after the water ouzel (or dipper), which is a small bird that dives under the water in search of food.
From this point forward the trail more or less follows Ouzel Creek all the way to Bluebird Lake. After walking a little more than a quarter-of-a-mile past Ouzel Falls you'll arrive at the Thunder Lake Trail / Bluebird Lake Trail junction. Hikers should veer to the left to continue on towards Bluebird Lake.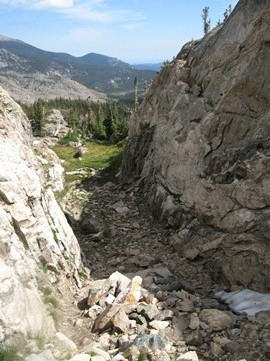 At roughly 3.5 miles from the trailhead you'll begin to notice the scars and the tremendous devastation leftover from the Ouzel Fire, which was started by a lightning strike on August 9, 1978. Because it was in a low risk zone the national park allowed the low intensity fire to smolder. However, five weeks later, on September 15th, Chinook winds exceeding 30 MPH whipped the fire out of control and threatened the small town of Allenspark. The fire was finally brought under control by September 30th, but wasn't fully extinguished until December 4th! In all, the Ouzel Fire burned more than a thousand acres, making it one of the largest fires in Rocky Mountain National Park history.
At roughly 4.6 miles from the trailhead hikers will reach the half-mile spur trail that leads to Ouzel Lake. Up to this point the trail has been a very pleasant hike through a predominately pine forest. Above this point, however, the trail becomes fairly rugged and steep, with the last quarter-of-a-mile becoming very steep as you negotiate rocks and talus while passing through a narrow canyon (see photo on the left). At least you'll have a fair amount of wildflowers to admire as you ascend through this relatively short section, if hiking this trail in July or August.
At roughly 5.9 miles hikers will reach the Upper Ouzel Creek Backcountry Campsite. Less than a half-mile beyond the campsite is Bluebird Lake, which sits at an elevation of 10,978 feet. This is yet another incredibly beautiful alpine lake in Rocky Mountain National Park. Rising due west on the opposite side of the lake is 12,716-foot Ouzel Peak. Completing the cirque wall around Bluebird Lake is 13,176-foot Mt. Copeland towards the south, and 12,632-foot Mahana Peak towards the northwest.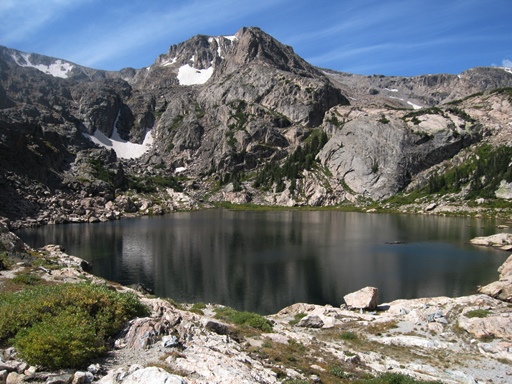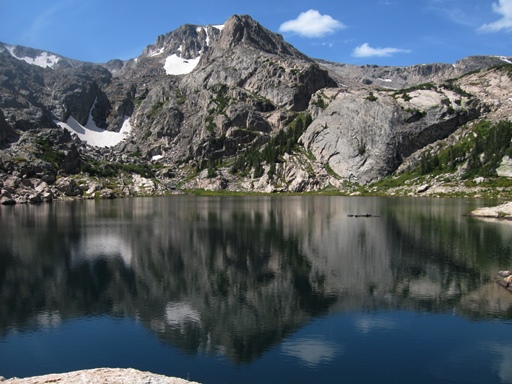 Although you would never know it today, there was once a dam located at Bluebird Lake. As a result of the Lawn Lake Dam failure in 1982, officials decided to remove three other man-made dams within the park, which included Bluebird Lake, Sandbeach Lake and Pear Lake. The original dam at Bluebird Lake was constructed between 1914 and 1923, stood as high as 58 feet, and had a width of 200 feet. With the help of a helicopter the park removed five million pounds of concrete and rebar between 1989 and 1990. Fortunately there are no apparent scars left over from the dam or its removal.