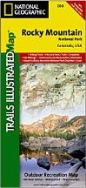 Deer Mountain
Trail Features:
Panoramic Views


Trail Location:
Deer Ridge Junction
Roundtrip Length:
6.2 Miles

Trailhead Elevation:

8940 Feet

Total Elevation Gain:
1210 Feet
Avg. Elev Gain / Mile:
390 Feet
Highest Elevation:
10,013 Feet
Trail Difficulty Rating:
8.62 (moderate)
Parking Lot Latitude
40.3870
Parking Lot Longitude
-105.60980
Trail Description
:
The hike to Deer Mountain is one of the more popular destinations in Rocky Mountain National Park. Due to limited parking along the roadside it's usually best to arrive early in order to avoid the crowds. The trailhead is located at Deer Ridge Junction, roughly 3 miles west of the Beaver Meadows Entrance where highways 34 and 36 intersect.
Although you would never know it now, Deer Ridge Junction was once the site of the Deer Ridge Chalet. During its lifespan, between 1917 and 1960, the thriving tourist business included a lodge, cabins, restaurant, filling station, a 50-foot observation tower, and a ski run that ran down into Little Horseshoe Park. Rocky Mountain National Park acquired the property in 1960, and proceeded to dismantle and remove the structures over the course of the following year.
Since the mountain tops out at only a little over 10,000 feet, Deer Mountain is a good warm-up hike before heading into the higher elevations of the park.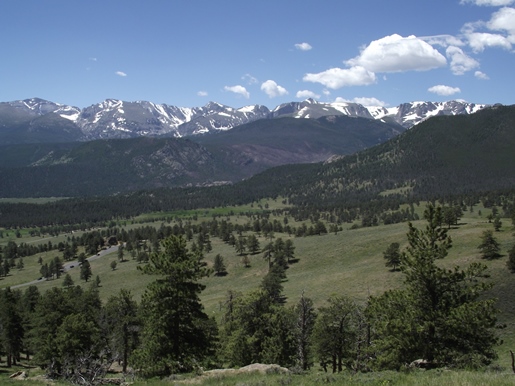 The route begins in a stand of mature ponderosa pine as it heads in an easterly direction. At roughly one-tenth of a mile the trail leading to Little Horseshoe Park and the Aspenglen Campground forks off to the left. Hikers should continue straight at this junction to proceed towards the summit.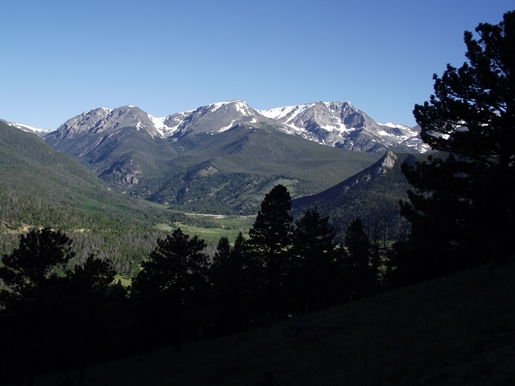 Over the course of the first mile the trail travels through mostly open country. Almost immediately it will provide big views of Little Horseshoe Park and the Mummy Range to your left. A little further up the trail you'll have commanding views of Moraine Park, Longs Peak, Hallett Peak, and the mountains along the Continental Divide off to your right. Also keep an eye out for deer and elk as you pass through these open meadows.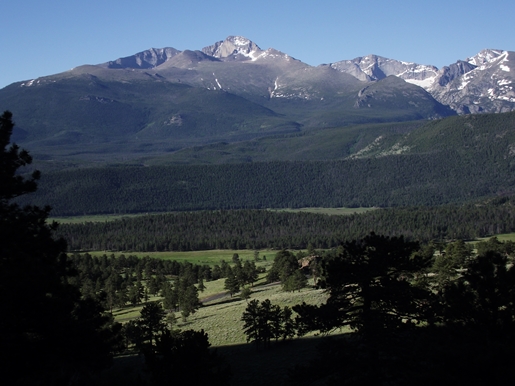 During the first 2.2 miles the trail makes a steady climb up the western slopes of Deer Mountain, while traveling over a series of several switchbacks along the way. After passing the 2.2-mile mark the trail flattens, and even loses roughly a hundred feet before reaching the summit trail junction.
At 2.9 miles hikers will arrive at the summit trail junction. From this point the Deer Mountain Trail continues for another 4.5 miles down to Estes Park. To continue on towards the summit, hikers should turn right here. From the junction the trail climbs fairly steeply, gaining roughly 150 feet over the course of the last two-tenths of a mile to the top.
As you might expect the views from the summit are simply outstanding. With the exception of a few trees you'll have almost 360-degree views. From this perch you'll have a birds-eye view of Estes Park, Moraine Park, Longs Peak, Hallett Peak, the Mummy Range, and all the mountains along the Continental Divide. This is truly a spectacular hike, and one that is suitable for the entire family.