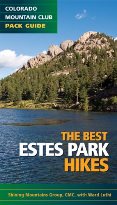 Best Estes Park Hikes offers details on 20 hikes near Estes Park, from short and scenic, to challenging adventures, including the 11,428-foot summit of Twin Sisters Peak.
Twin Sisters Peak
Trail Features:
Excellent views of Longs Peak, Fall Aspens


Trail Location:
Lily Lake Visitor Center
Roundtrip Length:
7.0 Miles

Trailhead Elevation:

9090 Feet

Total Elevation Gain:
2475 Feet
Avg. Elev Gain / Mile:
707 Feet
Highest Elevation:
11,428 Feet
Trail Difficulty Rating:
11.95 (strenuous)
Parking Lot Latitude
40.30288
Parking Lot Longitude
-105.53667
Trail Description
:
If it's been awhile since you last hiked up to Twin Sisters Peak, you may want to note that the park service has moved the trailhead to a new location. To reach the new Twin Sisters Trailhead from Estes Park, drive 6.3 miles south on Colorado Highway 7. Turn east at the old Lily Lake Visitor Center (across the highway from Lily Lake), bypass the visitor center (now closed), and continue up the gravel road for less than a half-mile. The road will dead-end at the trailhead.
There are some people that will use the hike up to Twin Sisters Peak as a warm-up hike, or to acclimate for other hikes in the park, such as the Keyhole on Longs Peak, or Hallett Peak in the Bear Lake area. However, it should be noted that Twin Sisters is a worthy destination in and of itself. The views from the summit are quite outstanding.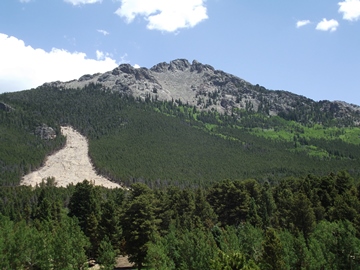 Shortly after starting your hike the trail exits Rocky Mountain National Park and enters Roosevelt National Forest for roughly a half mile. After re-entering the park again, and walking another eight-tenths of a mile, hikers will reach a massive landslide area. This segment of the route is located in the area where the trail used to begin ascending a series of switchbacks. This huge landslide, a result of the 2013 flood, can be seen from Highway 7 (see photo on left).
Unfortunately for hikers the landslide washed-out portions of three switchbacks along the route. In all, roughly 2000 feet of trail was impacted. As it stands right now, hikers are crossing over to the south side of the landslide. Although it looks confusing, cairns have been established to help guide the way. Once on the south side of the wash-out hikers will find a new social path that ascends along newly-created switchbacks, before reconnecting with the original trail at roughly 1.7 miles. Apparently this section of trail is fairly steep, but is said to be relatively easy to navigate. In March of 2016 the park announced that it would prefer to integrate this social path into the permanent route. Depending on whether this preference is approved, and how quickly funding becomes available, implementation of repairs for all flood damaged trails is expected to take 3 to 10 years.
During the historic storm of September 2013, Estes Park received 9.4 inches of rain, while a rain gauge just south of Marys Lake reported 11.5 inches. The storm knocked out roads and bridges, stranded residents, and killed 8 people in the Front Range area. Rocky Mountain National Park also received significant damage to roads, bridges and trails, which kept most of the park closed for almost two weeks.
Beyond the landslide, and as you proceed higher, views of Longs Peak, Mt. Meeker, Powell Peak, Taylor Peak, Lily Mountain and Estes Cone will begin to emerge towards the west. Once past the remainder of the switchback section the trail passes out of the spruce-fir forest and into the krummholz zone. Krummholz, a German word that means twisted wood, describes the stunted and irregular growth patterns of trees found in the transition zone between forest and tundra. Shortly thereafter hikers will exit the park and once again re-enter the national forest.
At roughly 11,000 feet hikers will finally reach tree line, at which point you'll have unobstructed views of Twin Sisters Peak. From here the terrain becomes progressively more rugged as you climb through steep sections of talus and scree. You may want to consider bringing trekking poles for this segment.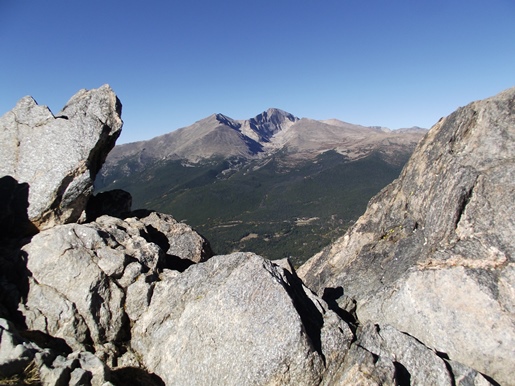 At just over 3.3 miles the trail reaches the saddle between the east and west peaks. From here cairns mark the short routes to both summits. East Twin Sisters Peak, at 11,428 feet, is slightly higher than West Twin Sisters Peak, which tops out at 11,413. Near the top is a stone building, a weather vane, and a radio communications tower. There was also an old fire lookout tower that was once located atop the western summit, but it was removed in 1977.
From the summit hikers will have commanding views of Longs Peak, Mt. Meeker, Estes Cone and the Continental Divide. While soaking in the views on our most recent hike we noticed an older woman approaching from below. Amazed by her accomplishment, we started chatting with her (see photo above) and found out that she was 80 years old! Five years before that hike, at the tender age of 75, she had summited Longs Peak - for the ninth time!