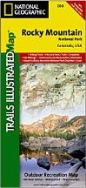 The Top 10 Hikes in Rocky Mountain National Park
"It has been said that great views create great thoughts, and great thoughts create great men."
- Roger Toll, superintendent of Rocky Mountain National Park from 1921 to 1929, and charter member of the Colorado Mountain Club.
For those of you who are unfamiliar with, or are making your very first visit to Rocky Mountain National Park, you'll probably want to know what the best day hikes are in order to maximize your time in the park. Based on many years of hiking throughout the park we've developed a list of our personal favorite top ten hikes in Rocky Mountain National Park. Veteran and new visitors alike can use this tool as a starting point in trying to decide where to hike during your upcoming visit.
Mt. Ida - Hands down this is the best hike in Rocky Mountain National Park. The views from the summit are simply epic. In fact, hikers will enjoy outstanding panoramic views along much of the route. Although the terrain becomes fairly rugged on the final leg to the summit, you'll have very little exposure to steep drop-offs. If this still sounds like this might be a little bit out of your comfort zone, you should check out the much easier version of this hike which ends atop Peak 12,150.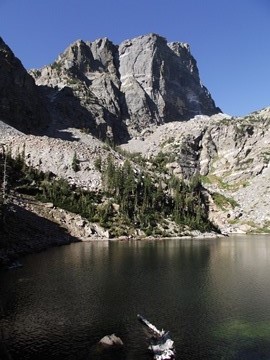 Hallett Peak - For those that feel that Longs Peak is just a little too hard, or maybe too dangerous, Hallett Peak just might be the perfect mountain to satisfy your big mountain, "summit fever". Reaching a height of 12,713 feet, the mountain provides a great opportunity to feel like you're on top of the Rockies, without being exposed to dangerous drop-offs.
Chapin-Chiquita-Ypsilon - This another alpine hike that ventures up into the highest elevations of Rocky Mountain National Park. On this hike you'll have the choice of either summiting one, two or all three mountains along the so called "CCY Route". The highest among these three peaks is Ypsilon Mountain, which is also the 5th highest mountain in the park. No matter your choice, the views from any of these mountains are simply amazing.
Chasm Lake - In my humble opinion this is the best lake hike in Rocky Mountain National Park. In addition to the outstanding panoramic views you'll encounter on the way up, you'll also enjoy front row views of the famous "Diamond" - the east-facing wall of Longs Peak which rises more than 2,400 feet above this incredibly beautiful alpine lake.
Emerald Lake - This hike will take you deep into the Tyndall Gorge, while visiting four beautiful subalpine lakes along the way. Although Bear Lake and Dream Lake are very nice destinations, Emerald Lake is the true gem in this chain of lakes fed by the Tyndall Glacier.
Ute Trail - Want great panoramic views without having to climb a lot of elevation? The Ute Trail is the perfect choice. This relatively flat hike along Tombstone Ridge offers hikers the chance to explore the alpine tundra zone, while soaking in the outstanding views of Forest Canyon, Longs Peak, Moraine Park and Estes Park.
Sky Pond - Surrounded on three sides by sheer cliff walls, Sky Pond offers hikers dramatic alpine scenery. What makes this hike a RMNP classic is that you'll visit two waterfalls and two other stunning lakes along the way. However, the scramble alongside Timberline Falls to reach the basin may present a challenge to some with a fear of heights.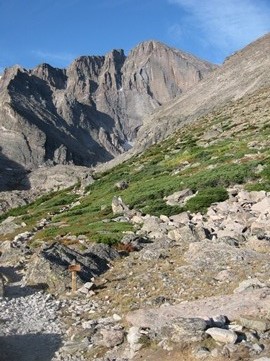 Bear Lake to Fern Lake TH - As a result of Rocky Mountain's excellent shuttle system, hikers have the option of taking the one-way hike from Bear Lake to the Fern Lake Trailhead in the Moraine Park area. Along the way you'll visit four magnificent lakes, a 60-foot waterfall, plus you'll make the descent into the spectacular Odessa Gorge.
Lake Helene - Although Lake Helene is denoted on the official park map, the short side trail leading to its shore isn't marked with a trail sign. Don't let this deter you - this is one of the most scenic lakes in the park.
Bluebird Lake - Rounding out the top 10 hikes in Rocky Mountain National Park is Bluebird Lake. This is another outstanding hike that offers several attractions along its route, including three waterfalls. However, Bluebird Lake, which fills a deep cirque beneath Ouzel Peak along the Continental Divide, is definitely the star attraction.
Honorable Mentions: Keyhole, Lake Haiyaha, Black Lake, Deer Mountain
If you think most of these hikes are too long, or too strenuous, check out our list of the Best Easy Hikes in Rocky Mountain National Park.
While planning your visit, be sure to visit our accommodations page for a variety of lodging options in the Rocky Mountain National Park area.